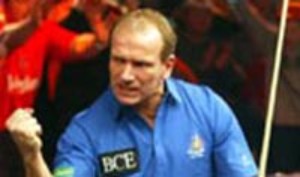 Trainingscamp 2014 - Pecs, Ungarn
vom 03.-16. August findet im ungarischen Pecs ein Trainingscamp für Damen, Herren und Jugendliche statt.
Hier findet Ihr alle Informationen.
Da wir schon sehr viele Anmeldungen haben, ist die Anzahl der noch offenen Plätze begrenzt.
Falls Ihr also Interesse habt, bitten wir um baldige Anmeldung:
NEU !!! zum 2. mal im August 2014 NEU !!!
Sommertrainingscamp für Damen und Herren in Ungarn
sowie für Jugendliche in Begleitung eines Erwachsenen
Billard lernen – Billard spielen + Spaß haben - Urlaub machen
13 Tage Urlaub in Verbindung mit intensivem Training wird seine Wirkung nicht verfehlen, die wenigstenvon euch werden dies schon ausprobiert haben, empfehlenswert für alle Leistungsklassen.
Ideal für die Saisonvorbereitung - auch für Vereinsmannschaften
Wann ?
Anreise Sonntag 03.08.2014
Abreise Samstag 16.08.2014
Wo ?
Training im Fordan Billardcenter in Pecs
16 Billardtische vor Ort (Klimaanlage vorhanden)
Gute, günstige und reichhaltige Küche im Center vorhanden.
Unterkunft in Orfü am See oder in Pecs
Tekeres Gasthaus oder Pension Dias in Orfü
Forum Hotel in Pecs
Trainer:
Christian Reimering
http://www.christianreimering.de/
Günter Geisen
Weltmeister
Oliver Ortmann
Training:
von Montag 04.08.2014
bis Freitag 15.08.2013
5 Std. täglich an 10 Tagen = insgesamt 50 Stunden
die Trainingszeiten können flexibel gestaltet werden
Kosten:
ab 585,-- Euro (Training und Übernachtung im Tekeres Gasthaus)
Das Trainingscamp ist auf 32 Spieler/innen begrenzt und findet ab 12 Sportler statt, somit garantieren die
Trainer Christian Reimering, Günter Geisen und bei vollen Teilnehmerfeld zusätzlich Oliver Ortmann
genügend Zeit ein gezieltes Training für jeden Einzelnen durchzuführen.
Alle Trainingseinheiten werden auf die Spielstärken der jeweiligen Teilnehmer angepasst, so dass die
Poolspieler aller Leistungsklassen herzlich willkommen sind.
Detailierte Preise, Fotos sowie Kontakt-Informationen findet Ihr hier:
http://guenter-geisen.de/downloads/ungarnausschreibung20141.pdf
---
Please have a look at following informations about the Training Camp 2014 for women, men and youth players accompanied by an adult.
It will be a combination of holidays and Pool Training Camp.
When ? Arrival: Sunday, August 03, 2014
Departing: Saturday, August 16, 2014
Where ? Practise at: Fordan Billiard Center in Pecs, Hungary
16 Pool tables (airconditioned)
Including restaurant
Accomodation facilities in Orfü near the lake or in Pecs
Tekeres guest house or boarding house Dias in Orfü
Forum Hotel in Pecs

Coaches: Christian Reimering www.christianreimering.de
Günter Geisen www.guenter-geisen.de
Oliver Ortmann www.oliverortmann.de
Training: From Monday, August 04, 2014 until Friday, August 15, 2014
5 hours per day on 10 days = 50 hours in total
Price: From 585,00 € (Practise and overnight stay in Tekeres guest house)
The Training camp is limited to 32 players. From 12 players, the camp will be guaranteed.
At 32 players, Oliver Ortmann will also be coaching the players.
All Training sessions will have different groups with different playing levels, so that all players from all levels are very welcome to participate.
The Billiard center is located in the heart of Pecs, one of the most beautiful cities of Hungary.
200.000 people are living there including 50.000 students.
You can do a lot of activities like sightseeing and shopping and having fun at the old town of Pecs.
There is also the Hotel Forum closed to the Billiard Center for all players available, who want to stay
in a hotel or don´t go to Pecs by car.
Pecs is around 2-3 hours away by bus from Budapest.
In Orfü, located near a small lake, you will not find a hotel, but guest houses and boarding houses.
There you will find the Tekeres guest house. You will find relaxation, fun and sports activities.
You will find the beach and it´s beach bar as well as the Aquapark, a soccer field, Minigolf and boating activities.
Tekers guesthouse offers apartments with 2 sleeping rooms (4 beds), kitchen, bathroom and lavatory.
Prices: Training and overnight stay
585,00 € p.p. Overnight stay at Tekeres guesthouse in Orfü (2-4 persons)
675,00 € Overnight stay at Tekeres guesthouse in Orfü (single room)
615,00 € p.p. Overnight stay in a 4-bed aparatment at boarding house Dias in Orfü
640,00 €p.p. Overnight stay in a double room at boarding house Dias in Orfü
755,00 € Overnight stay in a single room at boarding house Dias in Orfü
700,00 € p.p. Overnight stay in a double room at Forum Hotel in Pecs
870,00 € Overnight stay in a single room at Forum Hotel in Pecs
All prices include the overnight stay only. Players are responsible for their catering/meals.
Please ask for prices for attendants, not participating at the Training camp.
Please send your registration/question to: guenter.geisen@ish.de
Informations in german and photos you will find here: http://guenter-geisen.de/downloads/ungarnausschreibung20141.pdf
---
Sondertraining beim BC Queue Hamburg mit Oliver Ortmann:

m Rahmen der Zusammenarbeit zwischen Oliver Ortmann und dem BC Queue Hamburg findet ab sofort neben dem kostenlosen Training für Vereinsmitglieder des BC Queue Hamburg auch ein Training für Nicht-Mitglieder im "Billardcafé Breakpoint" statt. Für günstige 35,00 € hat jeder die Möglichkeit, für jeweils 2 Stunden vom Weltmeister trainiert zu werden. Dieser 2-Stunden Kurs findet an unterschiedlichen Wochentagen und bietet jeweils bis zu 8 Spielern die Möglichkeit, am Training teilzunehmen.

Maximale Teilnehmerzahl: 8
Anmeldung nur telefonisch unter 0170-5463031 oder per Email an: o.ortmann@ortmann-billiards.com

Der Beitrag von 35,00 € für 2 Stunden ist vor Ort zu entrichten.
Alle Teilnehmerr finden sich bitte im Billardcafé Breakpoint, Bramfelder Dorfplatz 11, 22179 HH ein.
Jeder Spieler kann so oft am Training teilnehmen wie er möchte.
Die Tehmen werden laufend geändert.
---

Pool Billard Training:

Falls Sie Interesse an einem professionellen Training haben, sind Sie hier richtig.
Das Training kann in Länge und Intensität unterschiedlich gestaltet werden und wird
individuell für jeden Teilnehmer bearbeitet und auf seine Bedürfnisse vorbereitet.
Einzeltraining ist ebenso möglich wie Gruppentraining mit bis zu 16 Teilnehmern.
Die Anzahl der Tische, wo das Training stattfindet, sollte nicht geringer als die Hälfte der
Anzahl der Teilnehmer sein.
Eine vorherige Absprache ist unbedingt zu empfehlen.
Ebenso verfügbar: Challenge Matche und Trickstoßvorführungen (Auf Anfrage)
---
Pool Billiard lessons:
If you are interested in getting tought pool by a professional pool player, you´re on the right spot.
You got the choice between getting tought individually or in a group. The length and
intensity of lessons will be worked out with you. The maximim of a group shouldn´t be higher than 16 players.
Please not that the amount of tables where the lessons take place, should not be smaller
than 50% of the amount of players.
Please contact me before preparing.
Also available: Challenge matches and trick shots exhibitions. Please ask for more..